©My Life With Luther: A Glimpse of a Legendary American Broadcaster
A book project co-authored by Holly Abernathy & James Howard
Available for sale on Amazon or Barnes & Noble
Released in February 2013
Luther left this world on October 20, 2014. He left an irrevocable mark in the communications industry and on the city of Chattanooga, but he also left the same mark on our hearts. You can read more of our thoughts on Luther's passing here. Read his obituary here.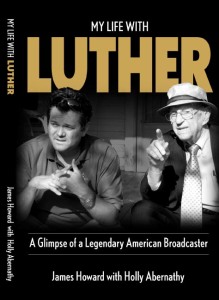 Luther Masingill served the Tennessee Valley on WDEF radio since 1941. Luther, as he was known locally, was not only a Chattanooga tradition, but a nationally recognized radio icon. Luther is the longest running broadcaster in the history of the world and was inducted into the National Radio Hall of Fame in 2012. The induction ceremony took place on November 10 at the Museum of Broadcast Communications in Chicago. He is also an inaugural Tennessee Radio Hall of Fame inductee and a winner of the NAB's prestigious Marconi Award. Prior to his death, he was on local television station WDEF News 12 since 1954.
James Howard, Luther's morning show co-host on Sunny 92.3 WDEF radio, worked with Luther for more than 20 years. James had the great fortune to work along side of Luther every day. His memory is overflowing with stories and experiences from many years with Luther and it was his desire to share these golden moments. James wanted to highlight not only Luther and his public life, but to share with the world the person Luther was in his personal life, the kind of man he was away from the microphone. "Luther was an amazing person who has led an amazing life. The stories he's told me – the things he's experienced – these are things that should be shared with Chattanoogans and beyond," says James.
©My Life With Luther: A Glimpse of a Legendary American Broadcaster presents these stories and experiences, along with an expose of Luther, his life and a brief history of the radio legend. Purchase your copy today from Amazon or Barnes & Noble.